If you are looking for great eyewear and eyeglass lenses,
visit our optical near Etobicoke ON
. We can help you find the right glasses for your lifestyle. See our optician's picks below!
Advanced Progressive Lenses (PAL)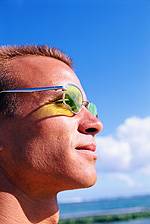 Today's wide range of sophisticated Progressive Addition Lenses (PAL) won't reveal your age and will restore your natural vision. The designs are customized to fit your specific prescription taking into account all the specific parameters of your vision requirements.
New PAL lenses are also built for durability and superior scratch resistance – providing great value. Speak to
your optometrist
for details.
Task Specific Glasses from your Optical
Do you spend lots of time at the computer? Do you do a lot of reading? How about sewing? Your performance in many different tasks can be improved by using task specific glasses.
For example, computer glasses are great for the unique nature of working on a computer. The distance from your eyes to the computer is different than the distance for driving or reading. Usually, glasses are measure for far and near tasks. Computer usage falls somewhere in the middle making computer glasses a great investment for many people.
Need more advice? See
our article here
on how to choose the right eyeglasses for your face shape!
For more information about our designer frames and extensive eyewear collection: