Directions to Mississauga
Located at 2 Robert Speck Parkway #150 in Mississauga, ON, Dr. Michael Banducci is just a short drive from Brampton.
Click here for more information about how to reach our Eye Care Center.
Dr. Banducci is proud to provide eye exam services, designer eye wear, contact lens fittings and other eye care services to neighboring Brampton.
Brampton, ON History
Since 8000 B.C.E. there have been records of people residing in Brampton. Settlers already started making their way from Europe in the early 1780's. The land was mostly a lush wilderness before development.
Named after their English home of Brampton, founders of the Primitive Methodist movement established a strong Methodist presence. Not long after came schools, agriculture, shops and factories. The flower industry became one of the towns largest businesses.
After enduring world wars, floods and the Great Depression, Brampton continued to steadily grow and flourish. The 1970's gave birth to the official city of Brampton. Known for it's cultural diversity, the city now boasts a population of 450,000 residents.
Dr. Michael Banducci & Associates,
Top 10 Things to Do in Brampton:
Gage Park

Rose Theatre Brampton

Historic Bovaird House

Heart Lake Conservation Area

Peel Art Gallery Museum & Archive (PAMA)

Century Gardens Recreation Centre

Eldorado Park

Powerade Centre

Hiking & Camping Tours

Historic Bovaird House
Why Choose Dr Banducci: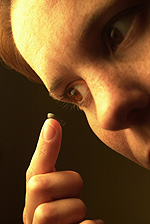 1. Personal attention. No one likes to go to an eye doctor they feel doesn't listen. We take the time to get our patients and their eye care needs.
2. Great care. One reason for visiting an eye doctor is for the personal touch. Whether picking out frames or deciding if you should switch to contact lenses, our staff will be happy to help you and answer questions.
3. All the best in eyewear. Our Mississauga office, near Etobicoke, carries a huge selection of frames and designer eyewear. It is worth the trip!
4. The optometrist. Dr. Michael Banducci and Dr. Gary Kogon provide great eye care for all of their patients. Call us today to arrange your appointment or click on the button below.
Click here for directions from Brampton to our office in Mississauga.
Eye Care Services Etobicoke --->